Lazarus's Second Chance - Adopted January 2016
In October of 2015 an adorable 3 year old boy arrived at the West Suburban Humane Society all the way from Tennessee and we lovingly named him Lazarus. Lazarus, an American bull dog mix, was found as a stray and was believed to be a bait dog used for dog fighting.
During his health and temperament evaluation it sadly became clear to us that Lazarus had sustained some serious injuries in his past. He was missing part of one of his ears and had scars from being bitten all over his body. Despite a rough past, Lazarus amazingly had the most affectionate and sweet disposition with the animal care staff and our volunteers.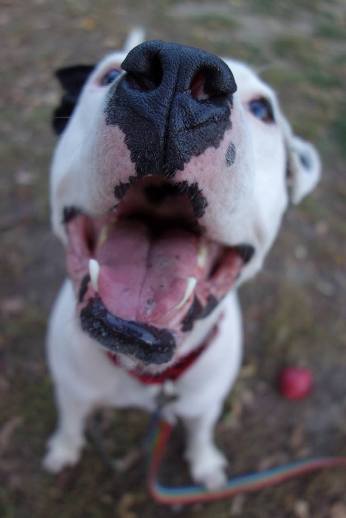 As everyone at the shelter got to know him, he instantly became a favorite. Lazarus was always willing and ready to show his affection with lots of kisses and cuddles. We discovered that he already knew basic commands and he listened well to anyone who interacted with him. This was a dog who wanted to please people. He loved playing with Frisbees and tennis balls and just enjoyed being with the volunteers and visitors at the shelter.
He was also given a full medical work up of vaccines and the tests that all animals receive when they come into WSHS. Unfortunately, the result from his heartworm test came back positive. After everything Lazarus had been through, it was heartbreaking to find out that he would have to endure the slow and painful heartworm treatment that would rid him of dangerous parasites that could have been easily prevented with prophylactic medicine.
Throughout the weeks of treatment, Lazarus continued to provide the staff and volunteers with cuddles and affection. He had come so far and nothing was going to stop him from loving every minute of this new life.
By early December, Lazarus was medically cleared and ready for adoption. A wonderful gentleman named Ed discovered what we already knew – Lazarus was a gem and would make a great best friend.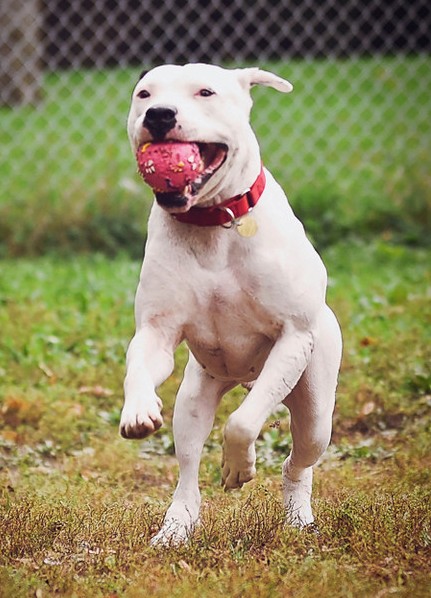 Lazarus now lives with his human Ed in a house with a big fenced in yard. Ed keeps in touch and recently told us that whenever he is out walking, people stop to meet Lazarus and ask about his story. He says, Lazarus is very still very affectionate and Ed's only complaint is that Lazarus does not know how to make the bed!
Lazarus has been living the life that he deserved all along for almost two and a half years now and he and his best friend Ed are enjoying that life together.