Horton's New Lease on Life - Adopted: March 2017
Ears, Ears, Ears! This pooch has the most wonderful, lovely, adorable ears!
From shelter pup…
Horton had a rough start in life. He came to WSHS in January of 2016 at as a young pup of four months with emotional and physical scars. Although permanent wires, pins, and screws had fixed his broken bones, the emotional scars were deep.
Shortly after his arrival, we discovered some significant food guarding behaviors. A trainer was called in to evaluate and felt Horton was most likely kicked when he was eating. He would react to volunteers' feet when food, treats or something deemed of high value was present. In addition to his "foot fixation" Horton did not have the best kennel presence, barking and jumping when potential adopters visited the shelter.
Horton had some major obstacles to overcome if he was ever to be adopted. The good news is that we were not going to give up on this boy. His life may have had a tragic start but we were determined it would not have a tragic ending. WSHS partnered with professional trainers and, with those training tools in place, the staff and volunteers worked with him daily. Sarah, WSHS Animal Care Manager, said it best: "It takes a really long time to try and undo the psychological damage done to some dogs, and that is the case with Horton. Luckily for Horton, he came to WSHS. Most shelters would not have given him the time and support he needs to be whole again. I love this boy and I love WSHS for not putting a deadline on his recovery."
To happy home…
When Kim and Mark adopted Horton, they were preparing for some issues. Having been warned of his food guarding behaviors, they readied themselves for putting in training time for both Horton and themselves. Kim had dog experience but Mark did not so there was some concern that a little inexperience could result in a mistake. Well, his transition into their home was a wonderful surprise. Kim said "he came pre-wired to succeed". All the training and effort that WSHS put into this boy paid off big. He settled perfectly into his new home and what challenges they have faced have been totally workable.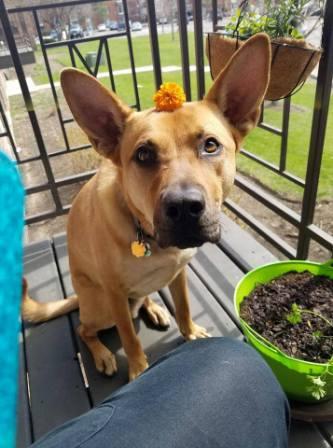 Hortons family could not be more pleased with their choice to adopt this special boy. Kim says he is the perfect dog. Horton is loving, smart, loyal and patient. "We are so lucky. He could have been a holy terror but that wasn't the case…not even close. Even our friends who are "cat people" absolutely adore Horton. It was like he was just waiting for us to come and adopt him." It is a perfect match!
Since finding his forever home, Horton has been on many adventures, including camping, the dog beach in Chicago, doggie ice cream socials, and road trips to visit family. Two to four days a week, he gets to play at the off-leash East Branch dog park, splashing around in the water and mud. He loves interacting with other the dogs. His absolute favorite things are cuddling with Kim, rough-housing with Mark, peanut butter, sleeping in their bed, and car rides, even if the car ride is only to the corner and back.
Kim said she could go on for hours talking about what a wonderful dog he really is. When asked what words of advice she would share with other potential adopters…
"Take a chance, speak with the volunteers. They know the dogs best and have insight into their personalities that you just cannot see when doing a brief walk through the kennel."
A few lessons we can all learn from dogs like Horton…
Emotional scars can heal with time, patience, training and Love.
Don't judge a book by its cover… The kennel is a stressful environment regardless of how positive the staff and volunteers try to make it. The barking dog in the kennel may just be the cuddliest, smartest, most playful pooch you will ever meet. Get him or her out in the yard and see…take a chance!